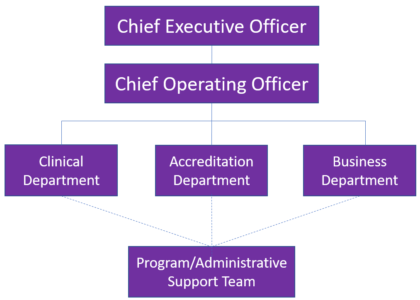 Chief Executive Officer
Eileen FitzPatrick, DrPH, MPH, RD, CLC is BFUSA's Chief Executive Officer. Her wide-ranging experience includes five years in the Obesity Prevention Program (OPP) with the New York State Department of Health (NYSDOH), during which time she was one of the primary coordinators of the initial statewide Breastfeeding Quality Improvement in Hospitals (BQIH) project. She also played a leadership role in the Breastfeeding Friendly project in Erie County, which was initiated and developed from her field research. Most recently, Dr. FitzPatrick was the faculty and Chair of the Russell Sage College Nutrition Science Department. She received a Bachelor of Science Degree in Psychology from Tufts University, as well as a Bachelor of Science in Nutrition from Russell Sage College, and completed requirements to become a Registered Dietitian. She then received a Master of Public Health and a Doctorate in Public Health from the School of Public Health at the University at Albany, where her doctoral work focused on maternity care practices and breastfeeding. She has co-authored numerous scientific publications and has presented original research at professional meetings such as the New York State WIC Association, the American Public Health Association, and the Academy of Nutrition and Dietetics Annual Meeting.
Chief Operating Officer
Anita McLaughlin, MA is BFUSA's Chief Operating Officer. She comes to BFUSA as an executive with over 18 years of operational and strategic management experience. She has fulfilled many roles throughout her career, such as direct care worker, educator, senior administrator, volunteer, and board member. Prior to joining BFUSA, she was an executive director of the Food Bank Association of New York State. She holds an associate degree in horticulture, a bachelor's degree in elementary education/biology and a master's degree in business and policy. Anita has served as executive officer on multiple boards, both locally and the state level. She was appointed to the Saratoga County Local Emergency Planning Committee and served as the first Chair of the Code Blue Steering Committee for Saratoga Springs, NY, and co-chair for the State University of New York Food Insecurity Task Force.
Clinical Department
Tammy Titus, BSN, RN, IBCLC is BFUSA's Clinical Director. She has held this position since June 2018.  She initially joined the staff in 2015 as an On-site Assessor.  She served in that capacity for more than a year before transitioning to a Review Specialist role in 2016. As Clinical Director, she works with her team of Review Specialists to provide feedback to facilities on a variety of pre-assessment materials and activities. She is an International Board-Certified Lactation Consultant (IBCLC) and Registered Nurse (RN) with over 30 years of experience providing care for mothers and infants in a large Midwest hospital. She received her Bachelor of Science degree in nursing from Maryville University in St. Louis, MO.
The Clinical Department is staffed by a team of Review Specialists who are RNs, each with more than 25 years' experience providing in-hospital maternity and lactation care.  The team is responsible for maintaining, clarifying issues and responding to questions pertaining to the Guidelines and Evaluation Criteria (GEC) and the 4-D Pathway to Baby-Friendly designation. They work with hospitals pre- designation and re-designation by reviewing and providing feedback on action plans, infant feeding policies, training plans, patient education plans, data collection plans, audit results and readiness for the on-site assessment.
Accreditation Department
The Accreditation Department is staffed by a team of Managers and RNs responsible for all aspects of the on-site assessment and post-designation processes. This includes scheduling, assigning teams, and conducting the on-site assessment; carrying out quality reviews to ensure consistency in interpretation of the GEC; coordinating the External Review Board (ERB) and implementing the post-assessment quality improvement activities to ensure maintenance of standards.
The On-Site Assessment Team consists of approximately 30 per diem RN, IBCLCs with a minimum of 5 years' experience with providing in-hospital maternity and lactation care. This team travels the country and carries out the prescribed activities on-site at birthing facilities being considered for Baby-Friendly designation and/or re-designation. The Assessor compiles findings and creates a report based upon observations and assessment criteria. The report is blinded and submitted to the ERB for a designation determination.
The External Review Board (ERB) is a multi-disciplinary team of licensed and/or certified health professional with a minimum of 10 years of experience in maternal and child health. The current team consists of MDs, certified nurse midwifes, RNs, IBCLCs and registered dietitians who are knowledgeable of maternity care practices to support lactation. This team reviews blinded facility assessment reports prepared by the on-site assessors and casts designation ballots based on the results of their review. 
Business Department
The Business Department is staffed by a team of employed skilled professionals and consultants responsible for the organization's Business Operations which includes administration, finance, corporate development, human resources, information technology, HIPPA compliance and legal.  The key function of this department is to assure operational smoothness by designing strategies and procedures that lead to greater cost and organizational efficiencies.
Program/Administrative Support Team
Charmaine Tompkins is the Administrative Manager at Baby-Friendly USA.  She joined the Baby-Friendly USA team in July of 2012 as the administrative assistant. Prior experience includes 15 years at the Whitney M. Young Health Center. During her employment at the Health Center she worked in the Alcohol and Substance Abuse department, Women Infant and Children (WIC) Training Center and the WIC Program. Charmaine received her CLC while at the WIC Training Center and lead Breastfeeding Support Group Sessions, Prenatal Support Groups at the WIC office and assisted in Breastfeeding Outreach Activities. Charmaine has served on the Board of Directors in her church for 17 years, remains active in her community working with youth and has provided a home for over 20 therapeutic foster children.
The Program/Administrative Support Team is staffed by administrative professionals who provide critical support to each of the departments and carry out the essential day-to-day office functions. This team answers calls and emails and directs inquiries and facility submissions to appropriate BFUSA staff and departments.