BFUSA Welcomes Kinkini Banerjee and Brian Dittmeier to Board of Directors
BFUSA is pleased to welcome Kinkini Banerjee and Brian Dittmeier as the newest members of its Board of Directors. Both were introduced at the Board's October 2 meeting.
"We are thrilled to welcome Kinkini and Brian to our board," says Theresa Landau, BFUSA Board Chair.  "Their expertise, passion and commitment to our organization's mission and vision will undoubtedly bring fresh perspectives and invaluable contributions. We are confident that their diverse backgrounds, skills, experiences and unique talents will greatly enhance our board's collective wisdom and ability to make informed decisions for the advancement of hospital maternity care practices."
Kinkini Banerjee, MS
With over two decades of experience in clinical and public health practice as well as program development and policy advocacy at all levels, Kinkini has worked on a broad range of issues impacting the health and economic well-being of children, women and gender expansive persons, families and communities of color. She is the Founder and Principal of Sage Transformations, and partners with government, philanthropy, academia, social movements, communities, non-profit organizations and corporations to bring about organizational and leadership transformations to advance social, health and economic justice.
Prior to this, Kinkini was Director of Community-Centered Design and Network in the Education Initiative of the Chan Zuckerberg Initiative (CZI), a philanthropy with a Whole Child Approach to student success, managing a significant portfolio of partnerships and grants. She was the Director of Coalitions at the United States Breastfeeding Committee (USBC), where she co-led the organization's Diversity Equity and Inclusion (DEI), belonging, and justice journey from its inception.
Kinkini is committed to building ecosystems which advance new narratives and center the wisdom, leadership and decision-making power of individuals and communities which bear the greatest brunt of inequities in opportunities and access.
"I'm excited to join the BFUSA Board of Directors because it gives me an opportunity to work with a phenomenal group of leaders who are helping to build a movement to protect, promote and support breastfeeding across the nation, and especially in places where resources are scarce," says Banerjee. "In the social, cultural, political moment we are in, there is vital need to advance enduring transforms in the full spectrum of maternal and infant health. I believe Baby-Friendly has a pivotal role in the broader larger push towards more just and equitable systems of care."
Brian Dittmeier, Esq.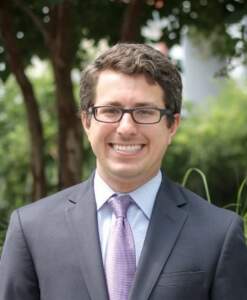 Brian Dittmeier is the Director of Public Policy at the Gay, Lesbian and Straight Education Network (GLSEN), where he advances safe and inclusive learning environments for LGBTQI+ students. A New Jersey native, Brian is a graduate of the George Washington University Law School. He has more than a decade of experience in federal policy, having worked to secure new civil rights protections, increased investments in the annual appropriations process, and improvements to federal programs. Brian served as the inaugural advocacy chair of the National LGBTQ+ Anti-Poverty Action Network and has previously worked in the anti-poverty, child nutrition, and disability rights communities.
Most relevant to BFUSA is Brian's work for six years at the National WIC Association. There he led a policy portfolio to strengthen nutrition and breastfeeding services for WIC families and was the leading public spokesperson for the Association during the COVID-19 pandemic and the 2022 infant formula shortages. Brian fought to expand the value of the WIC benefit, enhance the nutritional quality of foods provided through WIC, shift program services to telehealth and online shopping as well as protect immigrant access to WIC services. In this role, he worked to elevate breastfeeding through increased investment in peer counseling services and advocating systems-level change in the wake of the 2022 infant formula recall.
"Baby-Friendly USA has such an incredibly important mission," says Dittmeier. "In my six years at the National WIC Association, I learned a lot about how encouragement and education help shape and inform a family's choice of how to feed their baby. But when you zoom out to the system's level, you see there are a lot of incentives and disincentives that are baked into the structure that informs what families choose. I think Baby-Friendly's work to help build more breastfeeding friendly environments, particularly in the hospital setting, is a really critical step in supporting not just that initial choice to breastfeed but also in encouraging and empowering moms in the months that follow to sustain breastfeeding."